The Best Water Slide Rentals in Corpus Christi
For the best water slide rentals Corpus Christi has to offer, look no further than Corpus Christi Party Rentals. Planning a kid's birthday party, a corporate event, or a church festival? We are here to make your event successful. We offer the best Corpus Christi party rentals.
We have a wide selection of high-quality water slide rentals in Corpus Christi. So, whether it's a school event or your child's birthday, we have just what it takes to put a smile on their faces.
We understand that every party is unique, so we have various choices to suit your needs (and those of your guests).
We have a team of professionals to ensure a great experience. Expect professional and friendly support from when you place your order to when your party ends. We take care of all the little details so you can focus on the most important one—having fun. We help you kick away the hot Texas heat with our water slide rentals.
  Wet / Dry Slides

Slip and slide into some fun with our Water Slides, here at Corpus Christi Party Rentals!
24' Double Lane Big Kahuna Wet/Dry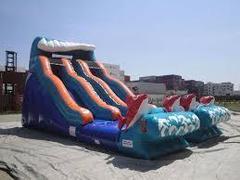 36' Tall Orange Crush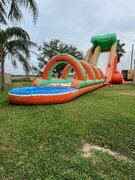 45' double lane slip n slide combo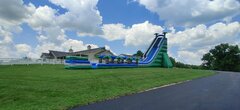 Pink Water Slide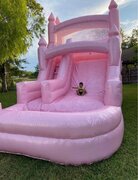 Water Volleyball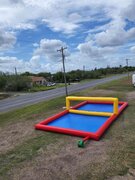 Alpine Tubing Slide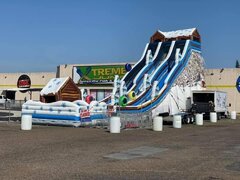 28ft Kraken Dual Slide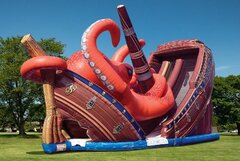 18' Hybrid Triple Lane Waterslide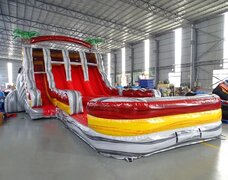 16' Double Lane Baja Slide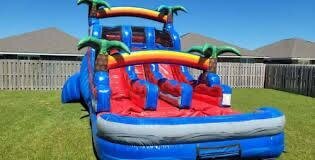 MAGA Waterslide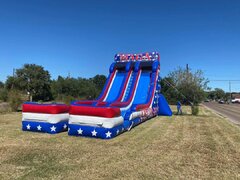 El Chapo Waterslide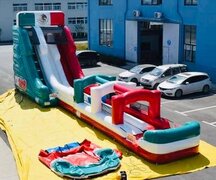 Shark 21' Double Lane Curve Waterslide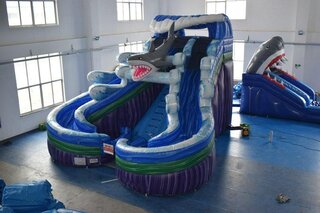 15' Shark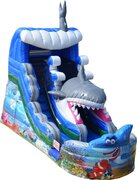 15' Unicorn Slide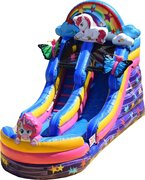 26' Niagra Falls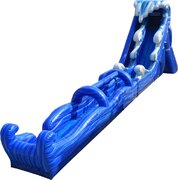 24' Shark Waterslide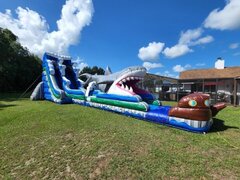 15' Tropical Waterslide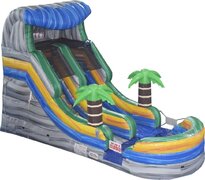 A perfect choice for any event!
Trust us to bring fun to all your indoor and outdoor events. We've been trusted by parents, teachers, business owners, and even kids, so why not you? We are the leading provider of amazing party rentals in Corpus Christi, South Texas.

Check out our extensive inventory of wet/dry slides in Corpus Christi, TX. We have a variety of affordable options for every style and theme. Corpus Christi locals often rent our moon jump rentals for different parties like;
Birthday parties

Family reunions

Corporate picnics

Church picnics

Holiday parties

… and more.

So, it doesn't matter which type of party you're hosting. If you need fun and entertainment, come to us for the best selection of party rentals.

In addition to our wet/dry slides, we offer a range of party rental items, including obstacle courses and bounce houses. Here, you'll find everything to make your event successful, from a bounce house to a basic moon jump rental.

Our wet/dry slides feature eye-catching graphics that draw the attention of kids and adults alike.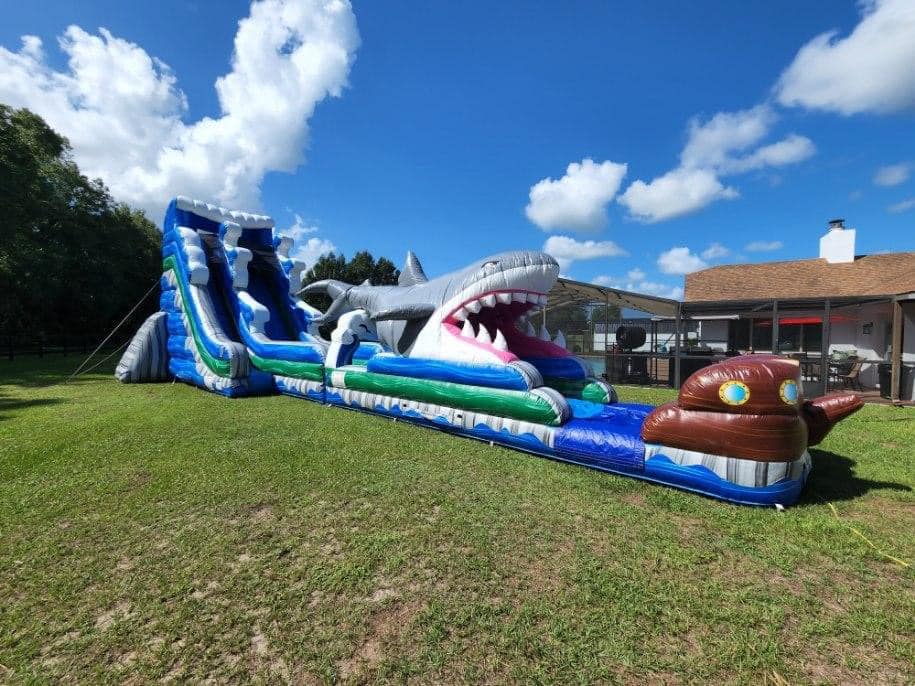 Book Your Water Slide Rental Online
We understand you have other important matters to plan for your event. That's why we are not going to waste your time. We've made our booking simple, easy, and fast.

What's more, it's all online. So you can make your booking at the convenience of your home—you don't have to come to us. Simply give us a call or fill out our online contact form to make a booking.
Our team of friendly professionals will work with you to determine the best wet/dry slide for your needs.
However, we only recommend—you have the final say, and we respect your every decision as long as it satisfies your needs. If you're happy, we are happy.
Don't worry about pricing. We have flexible plans to suit your budget. You can rent full-day or half-day, depending on your needs and budget. Either way, the prices are affordable. So you'll still have enough money to plan for other things.
Our team of experts will work with you to help you determine the best option for your party needs.
Book Online
Don't stress about delivery!
We want to do all the hard work for you so that you can only focus on one thing—having fun. Once you make your order, relax and wait for delivery.
We have a team of experts to ensure the safe transport of our party rentals. Just name your location, and we will bring the wet/dry slides right to your doorstep.
We will also help you set up the wet/dry slide at suitable locations to maximize the fun and ensure safety. Our professional delivery crew will arrive approximately an hour before your event kicks off to ensure the wet/dry slide is set up long before your guest starts trickling in.
Also, once the party ends, our team will take down everything safely.
However, ensure you provide an accurate date, time, and location of your event. This will allow our staff to come up with a convenient delivery and pickup window.
Positive 5-Star Reviews for Our Water Slides Corpus Christi, TX
It's our greatest pleasure to provide water slides Corpus Christi, TX locals can't get enough of for all occasions and to be part of hundreds of countless memories by carrying excellent inflatable options that don't disappoint. From birthdays and anniversaries to graduations and school field days, we've made lasting connections with our amazing customers over the years and value their repeated business more than we can express.

Throw a birthday party or end-of-the-school-year celebration in style! Whatever the festivity, we're here to help you throw a fabulous event that can't be topped. Take a look at some of our 5-star reviews from past customers and reserve your water slides Corpus Christi, TX online today!
Awesome Moon Jumps & Water Slides
Here at Corpus Christi, you'll be spoilt for choice. We have amazing inflatable rentals to make your event fun and memorable.
Depending on your specific needs and budget, you can choose from single-lane, dual-lane, and combo slides.
Our Slip 'N' Slides are perfect for those hot summer days and are a great addition to any occasion. If you're planning a larger event with a large venue, our water slides will keep your guests entertained all day.
Choose Your Ideal Size
When it comes to fun and entertainment, your kid's age should never be a problem. We have numerous selections in numerous sizes so that kids of all ages can enjoy the fun.
Sizes start from 15' all the way up to 45'.
So whether you want a tall slide for your middle-aged children or just want a small wet/dry slide for your 3-5-year-olds, get them from Corpus Christi.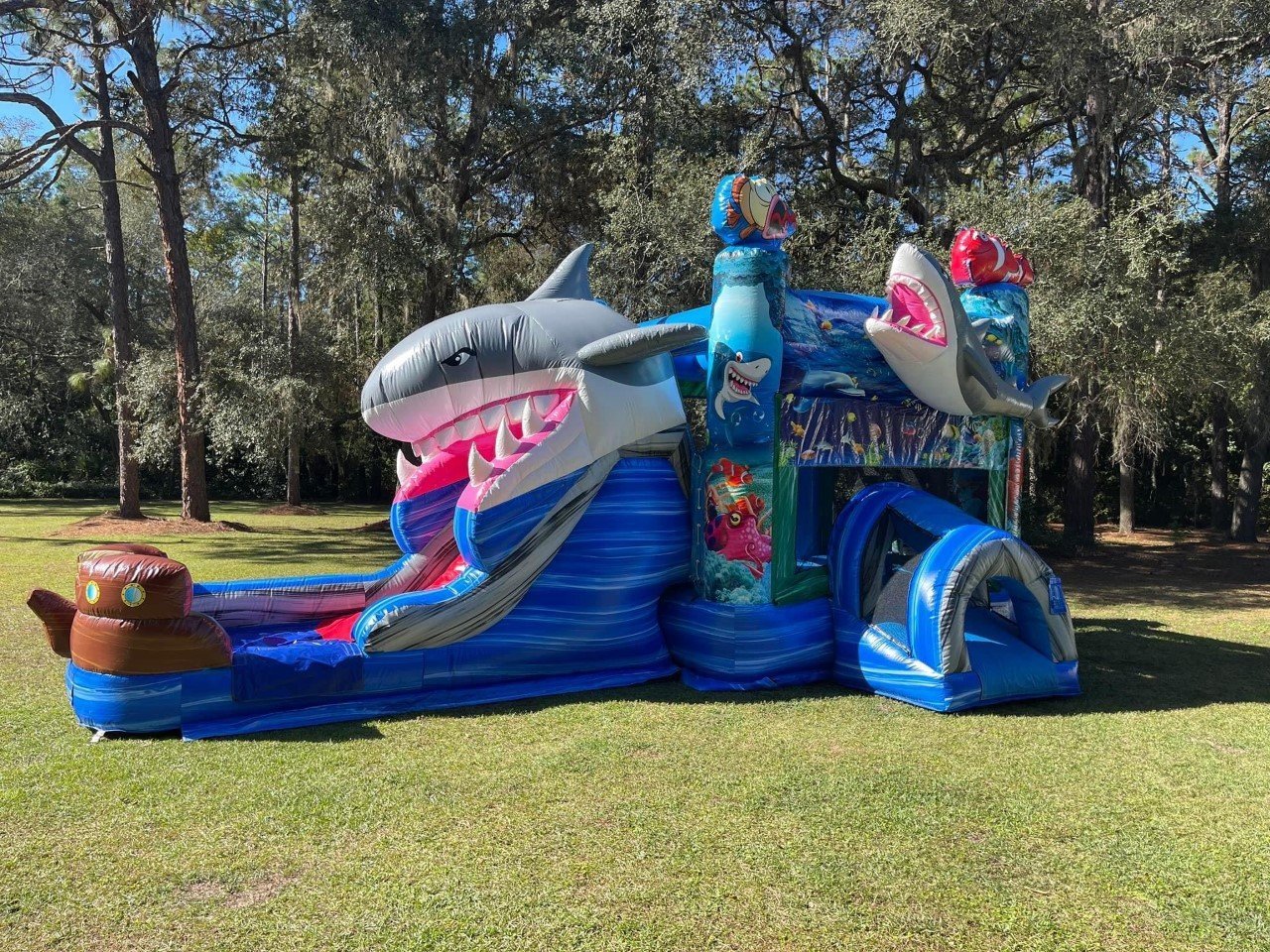 We Always Put Safety First
When it comes to your little ones, safety is always a top priority. You can trust us to keep your kids safe as they have lots of fun and entertainment. Our wet/dry slides are made from high-quality materials from reputable manufacturers to ensure safety.
Moreover, we regularly inspect them to ensure they are in excellent condition. Even when you make a booking, our experts will thoroughly examine the party slides before taking them to your party.
We take safety very seriously because we want to ensure all our customers have a fun, safe and exciting experience.
What Customers are Saying
"Our kids had sooo much fun with the water slide!! We've rented several from these guys over the years and won't be stopping anytime soon. Thanks for keeping the kids busy and cool!"
-J. Henson
"All kinds of options for your party at great prices. We love working with these guys. They make it easy to book and always deliver like the pros they are. Will use again in the future!"
-D. Thomas
"We threw together a last-minute family get-together and wanted to keep all the children entertained. Corpus Christi Party Rentals saved the day!! Such a fun weekend for our family and these guys helped make it memorable."
-A. Renner
Previous
Next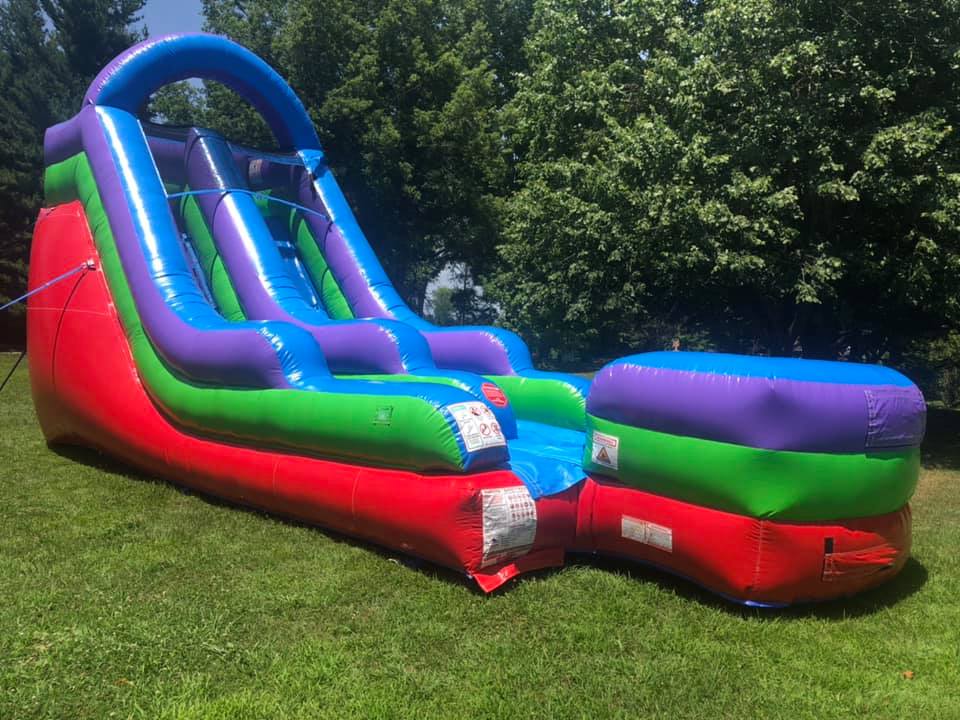 Book your water slide in Corpus Christ today!
Book your water slide in Corpus Christi today and dive into a world of aquatic fun and excitement! At Corpus Christi Party Rentals, we offer a vast selection of high-quality, vibrant, and safe water slides that are guaranteed to make your event the talk of the town. Whether you're planning a birthday party, a family reunion, a neighborhood gathering, or a corporate event, our water slides are perfect for guests of all ages. With various themes, sizes, and features, you'll find the perfect slide to suit your event's needs and thrill-seekers' desires. Don't miss out on the chance to create unforgettable memories at your event with our top-of-the-line water slides. Our dedicated team at Corpus Christi Party Rentals takes pride in providing exceptional customer service and seamless delivery, setup, and breakdown. We are committed to ensuring a safe and enjoyable experience for you and your guests. Don't wait any longer – book your water slide in Corpus Christi today and make a splash that will have everyone talking for months to come!
Book Online